Attendance
Student Attendance
By law, students are expected to attend school every day unless they are ill or have a medical appointment.  If your child is absent from school please call the school to report
the reason. The school must validate each absence. Please call the office before 8:30a.m. at 949-936- 6001.
 
Volunteer & Visitor Management
Please remember to always enter the school through the front office! Teachers schedule classroom helpers in advance to minimize any disruptions.
All school volunteers and visitors must sign in at the front office when they arrive. They will be provided with a Santiago Hills nametag to wear while on the campus.
When they leave, they return to the office to sign out. 
First time volunteers must complete a District Volunteer Screening form and provide a copy of their Driver's License to the Front Office so they can be added to our new on-line volunteer system.
Transportation & Safety
Our goal is to provide safe pedestrian pathways and bicycle routes, while striving to maintain convenient automobile pick up and drop-off access. 
It is illegal to park in bus and fire lanes.
Please do not park in assigned parking spaces.
You may park in the handicap parking space if you have a permit.
Please follow the directions of staff members when dropping off students.
You may not leave your car unattended for any reason in the pick-up lane.

Our top priority is to keep your child safe while at school. To that end, our campus is closed. Please help us keep our school safe by following these guidelines:

All parents must check-in through the front office.

Parents must stay behind campus boundaries at arrival and dismissal.

Green fence by kindergarten playground

Portables

Tree line

Walk on sidewalks and in walkways only. Please do not walk across the parking lot.

Send lunch with your student in the morning. If it absolutely necessary to bring your child's lunch to school, put it in the lunch drop-off box by the front office before 11:40am.

Do not walk across the lunch table area at any time, even when you are dropping off lunch in the drop-off box.

The playground is closed until 3:30pm.

If you are waiting with your child at the lunch tables between primary and upper grade dismissals, actively supervise your child. School is in still in session and students should not be playing near the lunch tables.

Between 7:55am and 3:30pm, do not bring dogs on campus.
Bicycle Information
Review Safety practices with children and practice traveling the route to school with your children.
Use your judgment if a child is ready to ride to school.  Students in the 3 rd grade and older may ride a bike to/from school.
Bicycles are not to be ridden on the school grounds.
All bicycles are to be locked at bike racks
Proper safety attire (helmet) is required at all times as mandated by state laws when riding a bicycle.
Proper maintenance of child's equipment is required.
Emergency/Disaster Procedure
The school has a comprehensive emergency plan that is regularly updated.  Students practice fire, intruder and earthquake drills throughout the year.  The school is stocked with emergency supplies of water, food, emergency tools and equipment by your PTA.
Procedures for Lunch Program
IUSD offers a hot lunch program (including milk) for students daily. The cost is $3.25 per meal and milk ala carte is 75¢.
Each child has been assigned a four or five digit personal identification number.
Parents are encouraged to deposit funds in the child's account either electronically or by sending a check to school with their child. Lunch lines move very quickly when cashiers are not dealing with cash. Envelopes are available at the credenza by the Nurse's Office.
Option 1:
Go to IUSD web page.
Click on Business Services
Click on Food Service in middle of page
Go directly to E-funds. Read the information about setting up your account. If lready registered, click middle icon at the bottom of the page.
This by-passes going into LunchBox. LunchBox and E-funds are two separate entities. Processing fees are assessed to cover the cost of processing payment. These fees are charged by E-funds and do not benefit the IUSD budget.
Check: $1.00 per transaction
Credit Card: 3% plus 50¢ per transaction (Visa, Discover & MasterCard only)
Note: If you are a new user, click on the "Sign up" button on the Log In screen. You will be assigned a password that you will need for future access. Do not lose this password.
Option 2:
Send a check to the school office made payable to IUSD Nutrition Services. We collect these checks each morning and they are entered in the LunchBox system before lunch
begins. You may make the check out for any amount. If you do not know your child's lunch PIN number, clearly write their name and teacher's name on the envelope. You may use one check for all your children in the same school. Make sure you specify how much money to put on each account.
Students who received a free or reduced lunch last year will continue to do so for 30 days. A new application must be completed each year. New Free and Reduced lunch applications must be completed each year as well. Applications are available on the Santiago Hills website and on the Nutrition Services website.
Monthly Lunch Menus are available to view on the IUSD website – http://www.iusd.org
If you have any questions, you may call IUSD Nutrition Services at 949.936.6520
** If students want an extra slice of pizza they will have to purchase another whole meal at $3.25. This is also true about any extra entrée. We will no longer be allowed to sell any of the entrees ala carte. The students will still be able to purchase an extra salad or fruit or juice or milk or water ala carte.
Parent Responsibilities
Student Information:
Parent Portal Visit the Parent Portal at https://my.iusd.org/ to set up your account. You will need your student's permanent ID number and a special verification passcode number which will be provided to you at Back to School night. Once you have set up your account you can access your student's attendance, grades and contact information on line. You will be able to log on to the system to make changes to the emergency phone numbers you have set up so that information will always be current. If you have any questions, please call the school office to date on any phone or address changes. 
On Line First Day Packet – Each year, you will be directed to complete the On Line First
Day Packet process for each child. The website is https://my.iusd.org.
Change of Address: Notify the office of any changes in address or phone.  Your child's emergency card needs to be updated at the same time.  If you move out of the area,
please notify the office so your child's records can be promptly transferred to the new school.
Tardies K-6 - 8:10 school begins!
As parents, we know you want your student to succeed to the best of their ability.  In order for this to occur, your child needs to be at school daily and arrive on time daily. 
Students who are tardy must check in at the office before going to class. Students are considered tardy if they are not in their classroom by beginning bell.
Early Release
It is equally important that students are at school the entire day. To ensure the academic success of all students, please refrain from taking students before the regular dismissal time.
School Communication
The school will communicate with you several ways including: Thursday envelope/backpack communication from your child's teacher and office, Emails to the
address you have provided the school, regular phone calls from the school to your home phone number and regular updates on our school website. (iusd.org/sh) If you are not getting email or phone calls from the school please update your information through your Parent Portal account.
Campus Safety
Our top priority is to keep your child safe while at school. To that end, our campus is closed. This includes the field, blacktop, lunch tables, and playground. Please help us keep our school safe by following these guidelines:
Students may not be on campus before 7:55 am.
All parent volunteers must check-in through the front office.
Parents must stay behind campus boundaries:

Green fence by kindergarten playground
Portables
Tree line

Walk on sidewalks and in walkways only. Do not walk across the parking lot.
Send lunch with your student in the morning. If it is absolutely necessary to bring your child's lunch to school, put it in the lunch drop-off box by the front office before 11:40 am.
After dismissal, the playground is closed until 3:30 pm.
If you are waiting with your child on the grass behind the green fence or at the lunch tables between primary and upper grade dismissals, actively supervise your child. Students who are not with their parent will be asked to wait in the office. School is still in session and students should not be playing.
Between 7:55 am and 3:30 pm, do not bring dogs on campus.
Health Information
Health Requirements: Immunizations: "NO SHOTS, NO SCHOOL." All students entering for the first time are required to have proof of immunization against diphtheria, pertussis (Whopping Cough), tetanus, polio, mumps, measles, rubella, Hepatitis, Chicken Pox and a TB test.
Medication at School: Santiago Hills school staff is prohibited from providing or administering any medication, including aspirin to any student.  However, if medication MUST be given at school, it must be personally delivered by the parent to the office and accompanied by a School Medication Form which has been signed by the doctor and
parents. The medication must come in the prescription bottle and be labeled with student's name, the medication, correct dosage, and time of administration. Students needing occasional medications, such as penicillin, etc., for colds, earaches, and sore throats, are to take these medications at home if possible.  Medication that is prescribed
three (3) times a day can be given before the student comes to school, after school and before bedtime.  "Over the counter" medication must also follow the above guidelines.
No medications of any kind, including inhalers, may be kept in the classroom, backpack, lunch box, etc., by a student.  Medications must be kept in the office.
Student Illness: If a child is ill or has a fever, please keep him/her at home.  State law mandates that a child must be kept home until he/she is "fever free" for 24 hours.
When a student becomes ill or is in need of first aid at school, the child is brought to the office.  If it is a serious injury or illness, paramedics are called first, then parents.  If the situation is not serious enough for paramedics, parents will be called following assessment and/or treatment of the problem. Only allowable treatment available would be cleaning with water, ice pack, and/or band-aid.
Behavior Plan
The goal of Santiago Hills Elementary School is to provide a safe and positive learning environment for each student. We believe all our students have the right to be treated with respect, the right to feel safe, and the right to learn. The following student rights and responsibilities have been developed to ensure a respectful and predictable school environment where students feel safe and can learn. All Santiago Hills Elementary students are required to follow these behavioral expectations, in compliance with IUSD Board Policies.
Discipline programs are designed to maintain or promote appropriate behavior; ideally, positive reinforcement is so effective that little or no other action is necessary. The school will focus on positive reinforcement and, when necessary, clear and consistent consequences that focus on students' learning to take responsibility for behaving appropriately.
Within classrooms, rules reflect the need to have children learn without disruption and to promote mutual support. Such rules vary from class to class.
Behavioral Expectations for Students – Ready, Respectful and Responsible
Arrive at school on time, between 7:55 and 8:10 AM (Policy 5142) Responsible!
Complete and return all assignments on time. Ready!
Keep our school a safe and clean place. Respectful!
Interact respectfully with others at all times. Respectful!  

The following will NOT be tolerated:
Verbal aggression: engaging in use of profanity, teasing, threatening, humiliating, insulting, name-calling (verbal or written,) rumor spreading.
Physical aggression: engaging in pushing, kicking, hitting, pinching, spitting, threatening others, making obscene gestures.

Dress in clothing appropriate for learning and playground activities and adhering to Santiago Hills Dress Code. (Policy 5132 and 5132.1) –see below. Ready!
Promptly comply with directions and requests of all school personnel. Respectful!
Keep hands, feet and objects to yourself. Respectful!
Leave all toys, electronic devices and personal items at home. Responsible!
Leave gum and candy items at home. Responsible!
Walk bikes when on campus, wear a helmet when riding, and lock bike in designated racks. ONLY students in grades 3-6 may ride bicycles to school. (Policy 5140) Responsible!
Leave skateboards, rollerblades, "wheelie" tennis shoes and razors at home.
Turn cell phones off when entering campus area. Cell phones must remain out of sight, in backpacks at all times, and activated ONLY when off campus. Respectful!
Respect and maintain school, private and community property. (Policy 5131.5)
Be honest in work and play. (Policy 6010) Responsible!
Anticipate and bring in needed school materials when due, including lunch, musical instrument, assignments, home/school paperwork. Ready!
Leave the school campus immediately following dismissal (go home, to day care, etc.). Ready!
Remain in the designated student wait zone for parent pick up. Responsible!
Abide by all safety policy in parking lot and when entering or leaving campus. Ready!
Playground rules
Snacks at recess are to be eaten at the tables by the swings or near the trash cans by the portables
Tag and other running games must be played on the grass
Tackling games are not permitted
Use the appropriate ball for each game (soccer, handball, etc.)
Carry playground balls and jump ropes to the rolling cart when the warning bell rings
Kick balls only on grass areas
Use good sportsmanship
Use ROCK/SCISSOR/PAPER to resolve conflict
district dress code
In accordance with the IUSD Board Policies 5132 and 5132.1, Santiago Hills Elementary School requests that parents and students read, discuss and adhere to the following student dress code. Clothing should be selected to support a positive learning environment.
Clothing must cover midriff, upper torso and upper thighs.
Shoes must have closed toes and closed heels. Thongs, mules, clogs, "Crocs", or heels over ½ inch are inappropriate for school.
Sleeveless tops must have straps at least one inch wide. Halter tops, strapless tops and spaghetti straps are inappropriate for school.
Undergarments must be covered.
Slogans on clothing must be school appropriate. Policy 5136 (a)
If your child does arrive at school dressed inappropriately it will be necessary for the
parent to bring a change of clothing to the school.
tobacco, alcohol & other drugs
Recognizing that education plays a central role in establishing patterns of behavior related to health and safety, the Board of Education acknowledges its responsibility to provide a healthy, safe, and comfortable work environment for district students, staff, and community members.
Tobacco-Free District: In order to support and reinforce the district's educational efforts to prevent student tobacco use through adult modeling, the Board of Education has established a policy that declares Santiago Hills Elementary School tobacco-free. It is the responsibility of all staff and community members to implement this policy in school buildings, school-owned vehicles, on school grounds, and at school-sponsored events off campus.
Safety and Non-Violence: To support non-violence on campuses, IUSD School Board has developed the following Zero Tolerance policy:
zero tolerance
means that the following violations will result in immediate SUSPENSION and EXPULSION from IUSD
POSSESSION OF A FIREARM
BRANDISHING A KNIFE
SELLING A CONTROLLED SUBSTANCE
COMMITTED OR ATTEMPTED TO COMMIT A SEXUAL ASSAULT
In addition, the following violations will result in immediate SUSPENSION and a
determination of further action which may result in EXPULSION proceedings
SERIOUS PHYSICAL INJURY TO OTHERS
POSSESSION OF KNIVES, EXPLOSIVES OR OTHER DANGEROUS OBJECTS
POSSESSION OF CONTROLLED SUBSTANCE
ROBBERY OR EXTORTION
ASSAULT OR BATTERY UPON ANY SCHOOL EMPLOYEE
student performance and evaluation
Report Cards
Report cards will be sent home three times per year at the end of each trimester.  This is a means of informing parents/guardians of the student's progress, or lack of progress, in each subject.
Goal Setting Conferences
Fall Conferences will be scheduled with all parents. Information will be sent home in October so that you can schedule a convenient time to meet with
your child's teacher. If additional conferences are required, teachers and staff are available to meet with parents. Appointments can be scheduled by calling the school.
We hope that parents will support students by providing a quiet location in the home that is conductive to study and by checking in with their child daily about completing
assignments.
Reading - It is important that all students read or are read to every day.  We encourage parents to make reading a focus for the whole family so that the reading habit is both modeled and supported.
Grades TK-3: 10-30 minutes per day
Grades 4-6: 30-45 minutes per day
Multi-Day Projects – Upper grade teachers will assign a variety of multi-day projects through out the school year. The projects, such as Science Fair, are more in-depth and
require higher level thinking skills.
Parental Involvement in Homework: Parents should always refer to the teacher's instructions about the degree of expected parent involvement in individual assignments and projects. The extent of parent assistance needed may vary with the individual student, as well. The parent and teacher should be mutually clear about any such expectations.
Finally, we ask parents to guard against taking too much responsibility for the child's work, especially in grades 4, 5 and 6 when the student is learning to work independently. If you are uncertain about how much assistance to provide, please consult with the teacher.
Parent Involvement
A key factor in the success of students at school is parent involvement. We welcome parents to the Santiago Hills campus and hope you will feel comfortable visiting and
participating in classrooms. PTA and Teachers will provide specific information on events and opportunities to support teachers at the school and in their classrooms.
It is important to STAY CONNECTED! Please read our "Principal's Preview and Review" emails, monitor your child's "Thursday Folder" and check our website for news and updates.
Parent support is needed through participation in:
 
School Site Council Our School Site Council (SSC) meetings are held once a month and play an important part in helping our school meet the needs of our students, staff and
community. At School Site Council meetings we discuss our school budget, our educational program and other issues related to running our school.
ELAC Santiago Hills English Language Learners Advisory Committee meets to develop strategies for serving our English Second Language students and families.
PTA The Parent/Teacher Association takes an active role in the school educational program. The assistance and input that is provided by PTA groups is very important.
Please become a member and participate in events during the year. The PTA has information on our website and the PTA website at www.santiagohillspta.com.
Principal's Email Santiago Hills Elementary School will publish a Bi-monthly newsletter which will be sent to you via email. Please be sure to read the newsletter for important dates and events. We hope this information will help you to participate more fully in the educational process of your child.
School and District Website Please visit the Santiago Hills website: http://www.iusd.org/sh/ And the IUSD District website http://www.iusd.org regularly for updated information and forms you can access. You can easily find the school calendar, staff phone extensions, lunch menu, school bell schedule and many other useful inks. Thank you!
School Communication
Information will be sent home several ways including: Thursday envelope/backpack communication from your child's teacher and office, regular emails to your home email address, regular phone calls from the school to your home phone number and regular updates to our school website. If you are not getting email or phone calls from the school please let the office know so we can update/correct information.
PBIS Behavior Matrix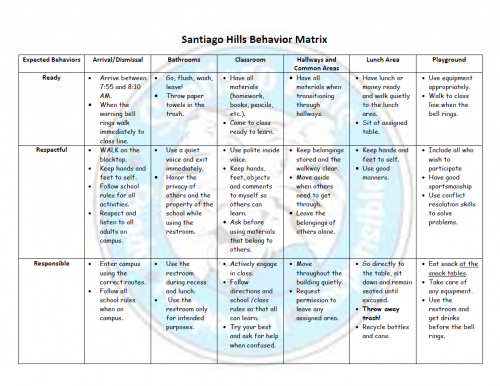 The Positive Behavior system is based on 4 key elements: data, practices, systems, and outcomes. The data supports the decision making. As a staff, we look at the data that we have to represent Santiago Hill's student behavior and we utilize that data in helping to determine appropriate student practices or expectations for our school. The practices are reviewed and modeled in classrooms and across school settings to support our students' behavior. The systems are then utilized to support staff behavior in response to students who meet the desired expectations and practices so that all students hear the same positive language regarding their behavior throughout the school. Finally, we hope the outcomes will be positive and will contribute to a positive learning environment and maximized instructional time.
School wide Behavior Systems focus on providing the following:
 A common purpose and approach to discipline.
A clear set of positive expectations and behaviors.
Procedures for teaching expected behaviors.
A continuum of procedures for encouraging expected behavior.
A continuum of procedures for discouraging inappropriate behavior.
Procedures for on-going monitoring and evaluation. Within the school, there are systems for the classroom setting.
Within the classroom, the following should occur:
Positive expectations are taught and encouraged.
Routines and cues are taught and encouraged.
A ratio of 6-8 positive (Got'cha's) to every 1 negative adult to student interaction.
Active supervision.
Redirection for minor, infrequent behavior errors.
Frequent pre-corrections for chronic errors.
Effective academic instruction and curriculum.
The Santiago Hills staff, under the guidance and leadership of the PBIS committee is following these guidelines.